Cosmetics & Medical Devices Cl.1
To meet your specifications and bring your projects to fruition, our scientific department provides you with two areas of expertise: Innovation and Research & Development.
Our Laboratory, staffed by pharmacists, doctors and chemical engineers, offers you the benefit of our unique know-how and …
… a force to be reckoned with,
Compositions that respect people and their environment
Sourcing of original ingredients of natural origin
A diversity of textures and galenic formulations combining safety, tolerance and sensoriality
The creation of virtuous, upcycled active ingredients thanks to our Innovation Center 2 new collections of formulas to inspire your products each year
…solutions for every market segment:
Des formules de dimensions internationales conformes à la règlementation en place
Des partenariats privilégiés pour l'évaluation toxicologique ou les tests d'efficacité et d'usage
2 nouvelles collections par an pour inspirer vos produits
Développements de formules traditionnelles, naturelles ou Bio
Choose our evolving offer

in FULL SERVICE or à la CARTE
Brief and formulation
According to your needs, we define together the project adapted to your ideas: formulation, manufacturing, sourcing.
Access to turnkey products
Take advantage of a wide range of formulas developed for customization
Design your formula from A to Z and according to your specifications
Our laboratory offers you formulas in response to market trends and in compliance with the regulations in force. We accompany you throughout the process thanks to a base of textures to facilitate the development and inspire your products. Force of proposals, we also advise you in the choice of your packaging and can carry out the sourcing of your packaging items. We offer local suppliers, concerned about the quality of their product.
Quality and regulations
Our regulatory department validates the formulas according to the marketing areas, anticipates changes in the regulations and carries out your Product Information File [PIF] complete. It studies and guides your choice of claims before marketing.
Our quality department also responds to each of your specific requests in terms of ingredients and packaging to provide you with an optimal solution in compliance with quality requirements. It carries out the control upon receipt of raw materials and packaging items, as well as microbiological tests after each production for the release of bulk or finished products.
Manufacturing and packaging
The industrialization of your product is rigorously managed by our production and packaging teams trained to ISO 22716 standard (GMP) . Each project is the subject of a preliminary technical feasibility study in order to meet the quality requirements for the design, filling, labeling and packaging of your product.
Logistics
Our logistics team manages the shipment of your goods according to your needs.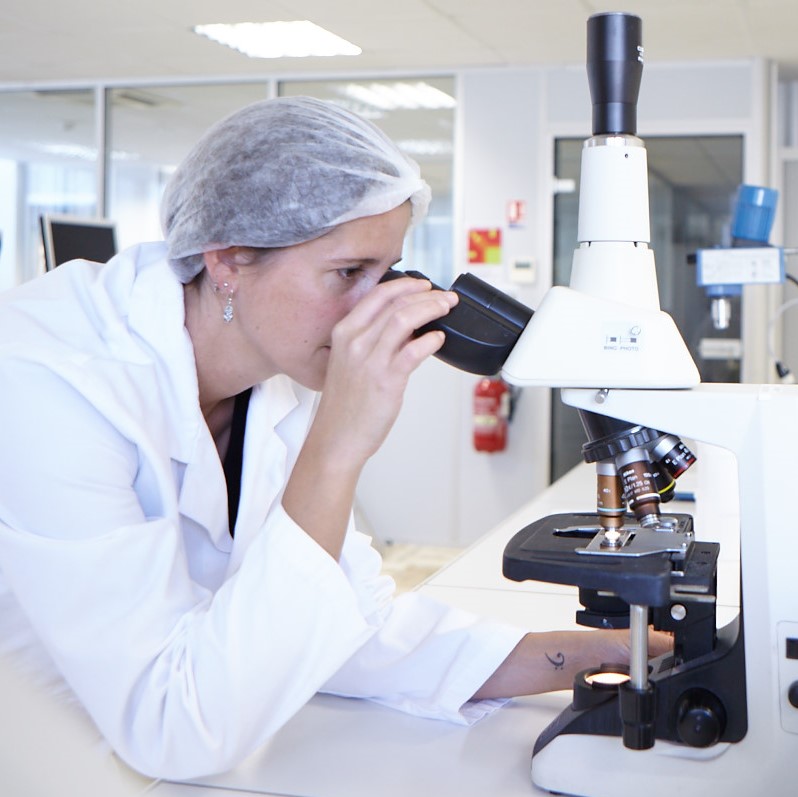 Quality and Regulatory Affairs: a dynamic system
SO.F.I.A. Cosmetics laboratories are certified according to international standards and in compliance with the European regulation EC n°1223/2009.
A department with 4 engineers and technicians dedicated to quality control, risk analysis and continuous improvement.
We guarantee the conformity of your products thanks to a traceability throughout the production chain and a rigorous control:
Raw materials upon receipt
Packaging items upon receipt
Of each production batch (bulk, semi-finished and finished products)
Measuring devices
Before shipment of finished products
A continuous investment as well as an equipment of analytical expertise: HPLC, UV, allow us to maintain a constant level of quality and to remain at the forefront of innovation. All microbiological controls are carried out internally thanks to a dedicated laboratory and in compliance with specific standards for cosmetics.
Our Regulatory Affairs department validates the compliance of your formulas before supporting you in the steps prior to the marketing of your cosmetic products:
Regulatory tests: challenge tests, toxicological evaluation
Clinical tests: efficacy or use tests to evaluate your products and support your claims
Creation of the PIF [Product Information File] in accordance with the EC regulation n°1223/2009
Control of legal mentions, claims and proofreading of your labels
Regulatory monitoring and compliance with foreign regulations